North American Charter 14 Annuity Review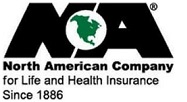 North American's Charter 14 annuity is a Fixed Indexed annuity designed for growth with an available income rider.
If you're new to fixed index annuities start with our index annuity tutorial here. To see what other customers are buying check the list of fixed index annuities here.
Other annuities in this series: Charter 10
Q: What is the minimum premium I need to pay?
A: $10,000
Q: Am I paid a bonus on my initial premium at sign-up?
A:Yes, a 8% bonus is paid on all premiums paid during the first seven years of the contract.
Q: Can I pay additional premium later on?
A:Yes, at a minimum of $50 each time.
Q: Are there any age restrictions?
A:Yes. You can purchase this annuity up to age 75. In some states the age requirements may differ.
Q:In which states is the Charter 14 annuity available?
A:North American's Charter 14 annuity is available in all states except AK, AL, CA, CT, DE, MN, NY, OR, PR, UT, VI, and WA (as of June 2013).
Q: Does this annuity have an income rider (for withdrawing income)?
A:Yes. An income rider can be included with your contract for an additional fee.
Click here to read the North American Income Pay Rider brochure.
Q: For how long are surrender charges in effect?
A:14 Years
Q:Does the Charter 14 annuity permit any withdrawals without penalties?
A:Yes, 10% after the first contract year.
Q:What benchmark indices do the Charter 14 annuity offer?
A:Dow Jones Industrial Average, Nasdaq-100, Standard & Poor's 500 Index, Dow Jones EuroSTOXX 50, Russell 2000 Index, Standard & Poor's MidCap 400 Index, Hindsight Index Strategy, (combination of S&P 500, DJ EuroSTOXX50 and Russell 2000).
Q: What are the index account options?
A:Monthly Point-to-Point, Annual Daily Average, and Annual Point-to-Point.
Q: What is the Method for Crediting Interest or Gains?
A: Cap rates.
To read the North American Charter 14 Annuity brochure click the image in the right bar (opens to a PDF document).
To review this annuity with an agent or to receive a free personalized illustration call 800-872-6684 (Monday-Friday, 9AM-5PM EST). You can also email your questions or comments by filling out the form in the right bar. We'll get back to you within 24 hours.
Brochure Disclosure: The contract features described in this brochure may not apply in the state in which you reside. Insurance companies often issue contracts which are 'state-specific.' Insurance companies also change their brochures often and without notice. To receive the latest version of the annuity brochure for your state call 800-872-6684.
16761Z PRT 08-12
Read more about North American Company for Life and Health Insurance's Annuities
North American Charter Cap Rates

Cap Rates as of November 26, 2013

14 Year Option
Daily Average
Annual Point to Point
Monthly Point to Point
S&P 500
3.60%
3.00%
1.55%
DJIA
3.75%
2.85%
N/A
S&P MIDCAP 400
2.85%
2.50%
N/A
RUSSELL 2000
2.80%
2.55%
N/A
NASDAQ-100
N/A
2.65%
1.35%
EURO STOXX 50
N/A
3.10%
N/A
HINDSIGHT INDEX STRATEGY
N/A
2.25%
N/A
FIXED ACCOUNT RATE
1.45%
PREMIUM BONUS
10.00%
FIRST YEAR YIELD

(IN FIXED ACCOUNT)

11.59%

(First-year yield =1.45% Fixed Rate + 10.00% Premium Bonus.)
More On Fixed Index Annuities