New York Life Guaranteed Lifetime Income Annuity II

Your retirement, your income, your way.
More guaranteed income in retirement means more opportunities to live the lifestyle you want—and only you know what you want. That's why a guaranteed income annuity from New York Life offers many ways to customize your income. So whether you're heading toward retirement or you're already there, you can expect:
A guaranteed lifetime income stream that starts when you need it to
Fixed income payments that are not subject to market ups and downs, backed by a company you know and trust
The ability to adjust your income to meet current economic conditions
Control over when you receive your money
Additional features to access your money if you need it
Income covering the lives of one or two people
Potential legacy options for your beneficiaries
How guaranteed income annuities work.
A guaranteed income annuity provides you with a worry-free stream of guaranteed income. You can purchase one before or after you retire. The money in your annuity—which you invest as a lump sum or in a series of payments, depending on the policy you choose—generates a stream of income paid out to you for life. The amount of income you receive depends on several factors, including your age, gender, premium amount, and your chosen payout option.
New York Life offers several guaranteed income annuities to match your needs. Depending on the one you purchase, you can begin receiving income immediately or as far out as 40 years. Once it starts, this income will last for your entire life.
It's your money, so you have some additional access to it as well. And you can further maximize your guaranteed income by adding additional features to your annuity. Ask your representative for full information on all the guaranteed income annuities we offer.
To read the New York Life Guaranteed Lifetime Income Annuity brochure click the image (opens to a PDF document):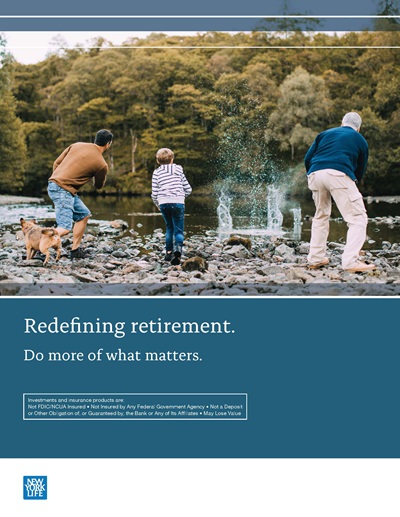 To review this annuity with an agent or to receive a free personalized illustration call 800-872-6684 (Monday-Friday, 9AM-5PM EST). You can also email your questions or comments here. We'll get back to you quickly!
Brochure Disclosure: The contract features described in this brochure may not apply in the state in which you reside. Insurance companies often issue contracts which are 'state-specific.' Insurance companies also change their brochures often and without notice. To receive the latest version of the annuity brochure for your state call 800-872-6684.
INC86a-03/13
Read more about the New York Life Guaranteed Lifetime Income Annuity II
Monthly Annuity Calculator
This is a monthly annuity calculator. It calculates the amount of monthly income you will receive in return for a specific "Investment" (aka Premium). Premium is the purchase amount you pay to the insurance company. With this calculator you can also find what Premium would be necessary in order to receive a specific monthly income amount. To use the annuity calculator, simply select your age, state, and gender. Enter a dollar amount in only one of the two boxes labeled "Investment" or "Monthly Income." Then, choose an income start date. Click "Calculate" and you will see a table with annuity quotes. Feel free to call 800-872-6684 if you have any questions about annuities or your quotes.