West Coast Life Insurance Company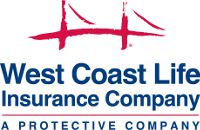 2801 Highway 280 South Birmingham, AL 35223
Customer Service: (800) 456-6330
Request a West Coast Life annuity quote
You can receive free annuity quotes from West Coast Life in one quick and easy report (you will not be contacted by an agent). To start, select your Age, Gender, and Income Start Date.
If you'd like a calculation covering yourself and a spouse, select your spouse's age and gender too.
Next, enter an Amount to Invest and click Get My Quote. An estimated quote appears instantly on the next page. If you have any questions about your quotes or annuities in general call 800-872-6684.
Click here to read more about the West Coast Life Insurance Company