How to Convert a Traditional IRA into Either Tax-Free Life Insurance or Long Term Care Insurance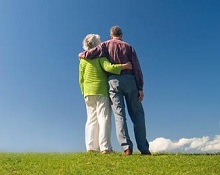 Q. Is it possible to use part of my IRA to pay for long term care insurance?
A. Yes, there may be a way to use part of your Traditional IRA to pay for long term care insurance.
To begin, apply for a 20-pay life insurance policy that includes a long term care rider. Once you have completed underwriting for this policy and have received an official approval you will know how much annual premium you need to pay to the life insurance company to keep the policy in force for 20 years. Then get a quote for the up-front cost of a 20-year period certain immediate annuity that would generate each year a dollar amount equal to the annual life insurance premium.

We had heard about annuities and were investigating them for our IRAs. We also heard bad things about pushy brokers over the years. So when we went to the ImmediateAnnuities.com site we were skeptical about calling them. But whenever we called their staff was really friendly. They answered all our questions and one of their reps even told us that at our ages there was no advantage to buying the annuity with our IRAs. These guys are really honest!
Read 200+ verified reviews
Purchase your annuity through a direct transfer of money from your IRA account to the annuity company. On the annuity application, instruct the company to send your annual income payment directly to your life insurance company to credit your life policy account. Once you complete these steps, you will have a life policy kept in force automatically by your IRA annuity. Each year, you should receive a Form 1099-R from the annuity company that reports your taxable distributions for the year (equal to the amount sent to the life insurance company). You owe income taxes on that amount.
Repositioning your assets in this manner will enable you to fund both a life insurance policy that will provide tax-free dollars to your named beneficiaries on your death and a living long term care benefit should you have the need for such payments. The long term care coverage portion of your life insurance policy will provide dollars for the following expenses: home health care, assisted living, skilled nursing care and adult day care. Even if you were to die before needing cash for an extended medical stay, your taxable IRA will have been transformed into a tax-free life insurance benefit because the face amount of your life insurance policy will pass to your beneficiaries on a tax-free basis.
MORE COVERAGE: