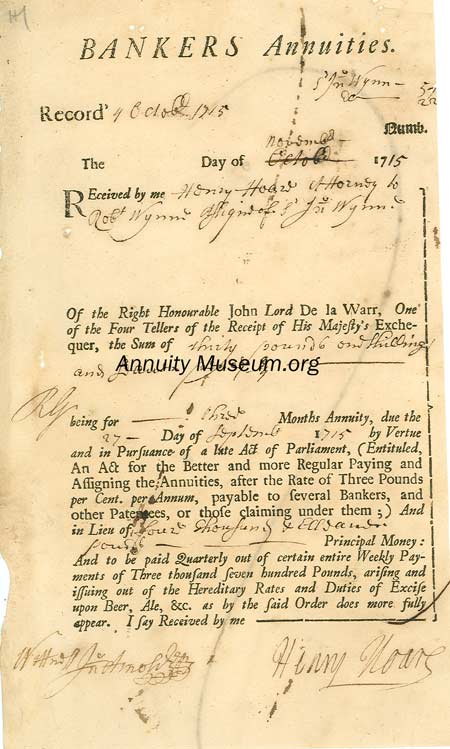 Bankers Annuities. Record 4 October 1715. The Day of November 1715. Bankers Annuity Receipt 1715 for one quarters annuity paid by the Exchequer. Received by me?Of the Right Honourable John Lord De la Warr, One of the Four Tellers of the Receipt of His Majesty's Exchequer, the Sum of thirty pounds one shilling and ?pence being for?Months Annuity, due the 27 Day of...1715 by Vertue and in Pursuance of a late Act of Parliament, (Entituled, An Act for the Better and more Regular Paying and Assigning the Annuities, after the Rate of Three Pounds per Cent. per Annum, payable to several Bankers, and other Patenees, or those claiming under them;) And in Lieu of four....pounds Principal Money: And to be paid Quarterly out of a certain entire Weekly Payments of Three thousand seven hundred Pounds, arising and issuing out of the Hereditary Rates and duties of Excise upon Beer, Ale, &c. as by the said Order does more fully appear. I say Received by me. Signed - Henry Hoare.



About Henry Hoare



One of the most successful goldsmiths in London in the late 1600's was Richard Hoare. Richard was the proprietor of the Golden Bottle, founded in 1673 at Cheapside. His shop had a gilded leather bottle which hung outside over the doorway. In 1690 Richard moved his business to new premises on Fleet Street, still within the City of London. Richard continued trading at the sign of the Golden Bottle until his son, Henry, and grandson, Henry II, took over the business. As a result of their success, the Hoare family became very influential and purchased and built the well-known estate in Stourhead with its luxuriant, Grecian, grand garden and lake. The Hoares' business, Hoare and Company, still operates in London today.



Westminster Hospital, also founded in 1719 by Henry, was the first hospital to be funded by 'subscriptions'. Subscriptions were regular payments made by wealthy patrons, and entitled the subscribers to become Governors of the hospital and have a say in its management. They were also allowed to recommend patients to the hospital.



In 1672 occurred the famous "Stop of the Exchequer" when it ceased repaying certain loans, causing the bankruptcy of some of the goldsmith bankers who were the main lenders. In 1677 interest was paid in part compensation, but these stopped in 1683 and nothing happened until 1705 when the government agreed to pay 6% pa but only on half the capital and this is one of these annuities.