We Compare Annuity Rates So You Save Time and Money
Are you searching for the best annuity online?
We make it easy for you to find the annuity that pays you the most income. In less than 3 minutes, you'll see instant annuity quotes from top-rated brands on your screen.
We do the work for you by comparing annuities from more than 150 insurance company websites including New York Life, MetLife, Mass Mutual, Nationwide, Pacific Life, Principal, and many others.
To view your personalized quotes just enter your age, when you want to start receiving income, how much you'd like to invest, and click to go to Step 2 of 3.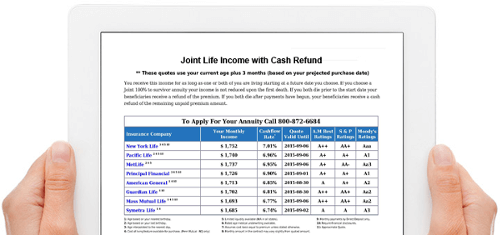 Get annuity quotes personalized for you
Figure out what you need with free custom quotes that make sense for your retirement
Earn the most income by comparing the best rates and payouts instantly online
Maximize the safety of your annuity by learning which companies have the highest ratings.