Comparative Annuity Reports

Comparative Annuity Reports is a free monthly email newsletter about Annuity Rates and Trends. Click to view the latest issue.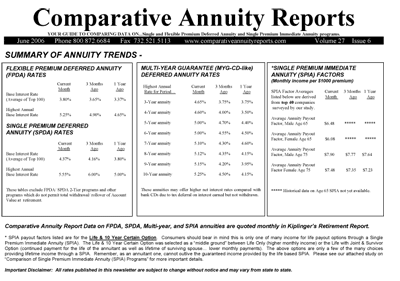 All our current and back issues of Comparative Annuity Reports are available for download below:
Current Issue: download
2023
November 2023: download
October 2023: not currently available
September 2023: download
August 2023: download
July 2023: download
June 2023: download
May 2023: download
April 2023: not currently available
March 2023: not currently available
February 2023: not currently available
January 2023: download
2022
2021
2020
2019
2018
2017
2016
2015
2014
2013
2012
2011
2010
2009
2008
2007
2006
2005
2004
2003
Rates are interpolated where data is not available.
Comparative Annuity Reports are a tool to help you find the best annuity. If at any point you want some expert insight, call our annuity experts at (800) 872-6684. We promise you'll get honest answers to your annuity questions.
If you want a current annuity quote with today's best rates from top-rated companies, just fill out the blue form to the left. In only a few minutes you'll get guranteed quotes from great insurance companies. You'll never have to give out your phone number and won't get unwanted sales calls.
© Copyright - Comparative Annuity Reports
Hersh Stern, Editor
Contact: (800) 872-6684
(or use our Contact Page.)