Annuity Commissions and Fees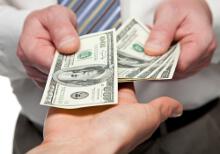 The #1 question I'm most-often asked is, "Why do annuities charge such high commissions?"
It's true, some insurance companies pay their agents as much as 10% for selling certain types of annuities.
All annuity commissions are not the same
The bad rap for high commissions belongs to annuities that are indexed to the stock market. It's important not to lump all the different types of annuities together.
For annuities that are not indexed to the stock market, the commission paid to an agent can be as low as 1%.
So how much commission are you paid?
When you buy an annuity through our service the insurance company pays us a commission based on the type and duration of your annuity. Here are some examples of the commission percentages we receive:
Immediate Annuities and Deferred Income Annuities
Annuities with simple features and no surrender charges, like an immediate annuity ('SPIA') or a deferred income annuity ('DIA') pay a one-time commission that varies from 1% to 5% of the premium.
The exact percentage is determined by the length of the income payment period, age of the buyer, and annuity payout option selected. For example, we may earn a 3% commission on the sale of a life annuity to a 65 year old. And we may earn 1% or less on the sale of a 5-year period certain annuity to the same buyer.
It's important to note that the commission is already built into the annuity quotes you receive. So there is no additional commission or fee you pay us nor is any commission deducted from your monthly income. The quotes on our web site are net of any commission and there are no annual fees.
Multi-Year Guarantee Deferred Annuities
A multi-year guarantee deferred annuity ('MYGA') is a type of annuity that is similar to a bank certificate of deposit ('CD'). To keep the interest rates on their MYGA offerings competitive with interest rates on bank CDs, insurance companies typically pay a lower 1% to 3% commission for the sale of a MYGA annuity.
As an example, if you purchased a short term (3-4 years) MYGA through our service we would earn a 1% to 2% commission. If your MYGA was for a longer duration (5-10 years) our commission might be 3%. Generally, there are no annual fees with a multi-year guarantee annuity.