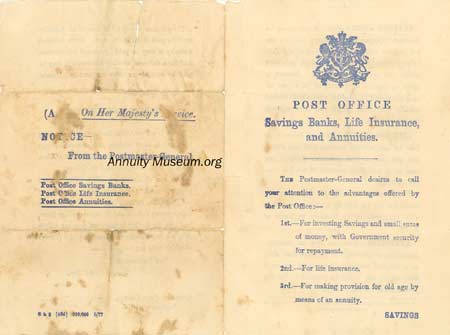 "Post Office Savings Leaflet. Post Office Savings Banks, Life Insurance, and Annuities. The Postmaster-General desires to call your attention to the advantages offered by the Post Office:- 1st.-For investing Savings and small sums of money, with Government security for repayment. 2nd.- For life insurance. 3rd.- For making provision for old age by means of an annuity. Savings BANK. ? You can commence an Account by depositing a shilling ; and you can pay in your money or take it out at any Post Office Savings Bank in the Kingdom, no matter where you open your Account. Interest is given on deposits at the rate of 6d. a year for each complete ?1. Married women and children equally with other people can have separate deposit accounts.
LIFE INSURANCE.? You can insure your Life for any amount between ?20 and ?100 ; and you can pay the premiums either in one sum or in periodical amounts of not less than two shillings.
For instance, a man in his 30th year can insure his life for ?50 by a single payment of ?21 11s. 10d., or by monthly payments of 2s. 2d.
Annuities.- You can buy an Annuity, immediate or deferred,* of not more than ?50, or a deferred monthly allowance of not more than ?4 3s. 4d., either for yourself or for any person above ten years of age.
*Note.? A deferred Annuity is one which is payable at some future period.
The purchase money for an immediate Annuity must be paid down in one sum. For a deferred Annuity it may be paid by annual instalments. And for a deferred monthly allowance it may be paid by monthly or more frequent instalments.
FURTHER INFORMATION
There is a Post Office Savings Bank in every town and in most villages, and at most Savings Banks there is an Insurance and Annuity Office. A list of them is kept at all Post Offices.
You can obtain at any Post Office printed papers containing the principal rules either of the Post Office Savings Bank or of the Insurance and Annuity Offices, and if, after reading these, you wish for further information, you can obtain it by writing a letter on the subject, the postage of which need not be paid, to? THE SECRETARY,
General Post Office,
London.
GENERAL POST OFFICE, September, 1876."