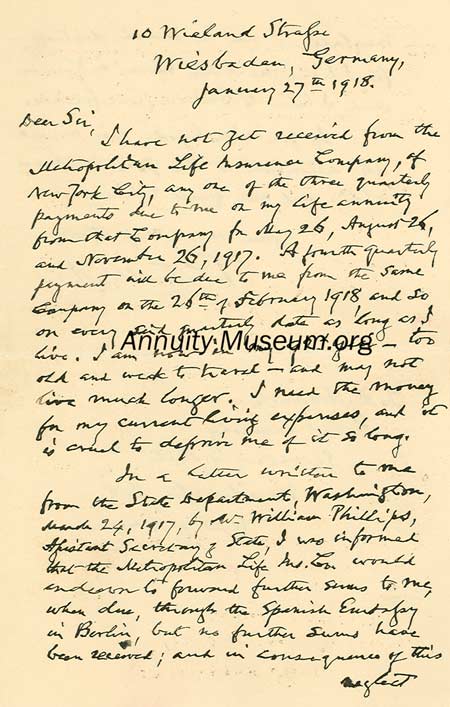 T.C. Callicot, Democratic Assemblyman, 1918 Letter.
This is an original handwritten letter from T.C. Callicot, a prominent Democratic Assemblyman from Brooklyn, to Robert Lansing, Secretary of State in Washington D.C. 2 pages on one sheet, January 27th 1918, Wiesbadaen, Germany, 4 1/2"x7", reads in part:
I have not yet received from the Metropolitan Life Insurance Company, of New York City, any one of the three quarterly payments due to me on my life annuity from that company for May 26, August 26, and November 26, 1917. A fourth quarterly payment will be due to me from the same company on the 26th of February 1918 and so on every said quarterly date as long as I live. I am now in my 92nd year - too old and weak to travel - and may not live much longer. I need the money for my current living expenses, and it is cruel to deprive me of it so long.
In a letter written to me from the State Department, Washington, November 24, 1917, by William Phillips, Assistant Secretary of State, I was informed that the Metropolitan Life Ins. Co. would endeavor to forward further sums to me, when due, through the Spanish Embassy in Berlin, but no further sums have been recieved, and in consequence of this neglect, I am in much distess for I have no other money in Germany, and I have to borrow from friends.
If you will kindly give immediate attention to this, you will much oblige and will greatly relieve.
Yours most respectfully,
T. C. Callicot