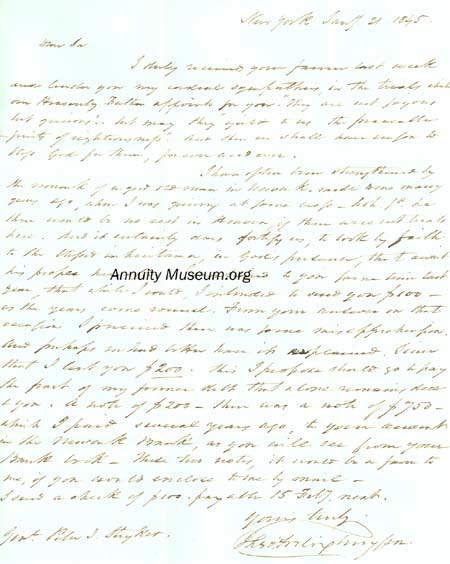 "Letter from T. Frelingheyser to Gen. Peter Stryker. New York, Jan'y 21, 1845. Dear Sir, I duly remind your?last week and?my cordial sympathies, in the trials which our Heavenly Father appoints for you. ""They are not joyous but grievous"" but may they ""yield to us the?of righteousness."" And then?to bless God for them, forever and ever. I have often been strengthened by the remark of a good old man in Newark made some many years ago, when I was grieving at some cross...said he there would be no rest in Heaven, if there were...trials here. And it certainly does fortify us, to look by faith to the...in God's persona, that...his proper hereafter. I mentioned to you some time last year, that which I would, I intended to send you $100 as the years come round. From your answer on that occasion I perceived there was some misapprehension and perhaps...This I propose should go to pay the part of my former debt that alone remains due to you. A note of $200 there was a note of $750 which I paid several years ago, to your account in the Newark Bank, as you will see from your Bank book - These two notes, it would be a favor to me, if you would enclose to me by mail - I send a check of $100 payable...Yours truly, Theo: Frelingheyser.
Addressed to Genl. Peter Stryker, Somerville, New Jersey. Docketing on the back fold: ""I gave Mr. F. the two notes within referred to viz one for $750 the other $200 on his promis to pay me annually $100 as within expressed."" On another fold: ""As Executor of Archibald Mercer Esqr is indebted to me on annuity of $100 paid me by Peter Mercer one of the Executors who became insolvent leaving __ years unpaid before the death of my wife 8 July 1840 all and each of the Executors were bound for what P Mercer paid. This Mr. F. acknowledge.""
From his Congressional biography: FRELINGHUYSEN, Frederick Theodore, (nephew and adopted son of Theodore Frelinghuysen, great-nephew of Frederick Frelinghuysen, uncle of Joseph Sherman Frelinghuysen, great-grandfather of Peter Hood Ballantine Frelinghuysen, Jr.; great-great-grandfather of Rodney P. Frelinghuysen), a Senator from New Jersey; born in Millstone, N.J., August 4, 1817; graduated from Rutgers College, New Brunswick, N.J., in 1836; studied law; admitted to the bar in 1839 and commenced practice in Newark, N.J.; city attorney of Newark in 1849; member of the city council 1850; trustee of Rutgers College 1851-1885; member of the peace convention of 1861 held in Washington, D.C., in an effort to devise means to prevent the impending war; attorney general of New Jersey 1861-1866; appointed and subsequently elected as a Republican to the United States Senate to fill the vacancy caused by the death of William Wright and served from November 12, 1866, to March 3, 1869; unsuccessful candidate for reelection in 1868; appointed United States Minister to England by President Ulysses Grant in July 1870; confirmed but declined the appointment; again elected to the United States Senate as a Republican and served from March 4, 1871, to March 3, 1877; appointed a member of the Electoral Commission in 1877 to decide the contests in various States in the presidential election of 1876; unsuccessful candidate for reelection; chairman, Committee on Agriculture (Forty-second through Forty-fourth Congresses); resumed the practice of law in Newark, N.J.; appointed Secretary of State by President Chester Arthur 1881-1885; died in Newark, N.J., May 20, 1885; interment in Mount Pleasant Cemetery. "