An Annuity Ladder May Help You Ease Into an Annuity Purchase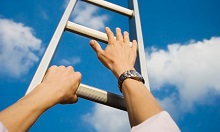 If you've been thinking about buying an annuity recently, you must be used to seeing your hopes for higher interest rates dashed. Even the best economists have been wrong in their forecasts lately, predicting rates to rise, then forced to announce further delays as new economic data emerges.
I speak with consumers about interest rates nearly every day. Last week, I had a chance to discuss rates with a well-known former CFO friend of mine, when the two of us and our wives went to dinner in Manhattan. Here's how our conversation went:
First, some background. Mark B. and I went to NYU together in the 70s. Mark is 64 years old. He's been thinking about buying an annuity for quite a while. In fact, I think he first mentioned it to me four years ago.
Even though an annuity made sense for Mark's retirement portfolio when we first discussed it, he continues to hope that if he waits just a little longer, interest rates will be higher than they are today.
Mind you, Mark would be relatively pleased with his payout if he bought an annuity at today's rates. It's more about his personality -- Mark is hesitating because he's the kind of guy who hates to lose. He worries if he locked up his money at today's rates, he'd regret knowing that he could have done better next year.
Obviously, the big risk to Mark's approach has been that interest rates have continued to drop while he's been waiting for them to reverse higher. In fact, in the past four years, anyone who's been waiting for rates to turn up, has been disappointed. Take a look at this interest rate chart on Yahoo: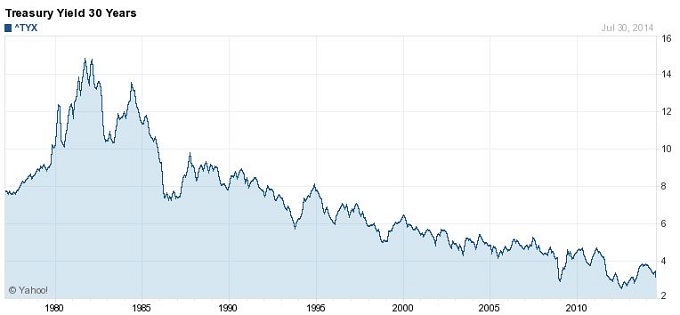 (Click here to see the current chart)
You can see that interest rates for the 30-Year U.S. Treasury Bond peaked in 1982 at 15%. Since then, you would have done better to purchase your annuity when you first started your research than waiting a year or two more for interest rates to move up, which didn't happen.
Of course, you wouldn't have known that rates would be heading lower. Which raises an important question: How do you know that it's the right time (interest-rate-wise) to buy your annuity?
With daily predictions that "rates will rise," always a year away, what should you do now? There is an approach you can take that side-steps the interest rate uncertainties. It's designed to create your retirement income portfolio in stages. I call this the "climbing an annuity ladder" strategy.