Dr. Pfau's Advice on How to Retire in a Low Interest Rate Economy
by Hersh Stern - Revised Friday, June 2, 2023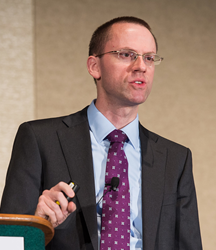 A question I'm asked frequently is: "With interest rates so low is this a bad time to purchase an annuity?
If you've been toying with the idea of purchasing an annuity, but you're afraid interest rates may be "too low," retirement researcher Professor Wade Pfau of the American College says it's alright to move full steam ahead. I've summarized Dr. Pfau's research as it relates to annuities:
Is now a bad time to retire?
Dr. Pfau writes that in the early 1980s, you would have thought it was a great time to retire because interest rates were so high. But for new retirees then, it would have been hard to accumulate much wealth in the years preceding retirement because of the abysmal stock markets of the 1970s and early 1980s. So a larger return on a smaller saved amount would not necessarily have left those retirees any better off.
Is now a bad time to buy an annuity?
Dr. Pfau found that just because we're in a period of low interest rates, it's not a bad time to buy an income annuity. In fact, if an annuity fits in with your overall investment strategy then you should go ahead regardless of what is happening with interest rates, he said.
This is because while you waited for interest rates to go up - which may or may not happen - you would be spending down more of your principal. This is especially true in years when your living expenses exceeded the interest, dividends and capital gains you were earning.
So even if interest rates did eventually rise, you might not be able to purchase more income generating products (like annuities). At that time, you might be getting a higher interest rate but it wouldl be based on a smaller investment. Waiting entails this risk.
What if you still have several years to retirement?
Should you consider purchasing a deferred income annuity and "locking up" your money in this low interest rate environment?
Starting a deferred income annuity ladder now can still be a good strategy - even if you won't be retiring for a number of years, Pfau said. This is because you can put money into your annuity account over time, rather than all at once.