6 Reasons for Saying No to an Annuity – Some Good and Some Not-So-Good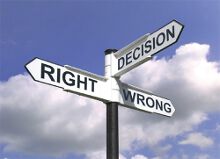 Through the years, I've spoken with many retirees who were in the middle of deciding whether to buy an immediate annuity to supplement their retirement income. While an annuity made sense for many of them, there were a few situations where it was not a good fit.
In this article, I discuss 6 common reasons for saying "no" to an annuity. Some are objections that have alternative solutions. I'll elaborate on those. Others are quite valid and will stand unopposed. Let's take a look at these best and the worst reasons for choosing not to purchase an annuity.
3 Common – But Misguided – Reasons for Saying "No" to an Annuity
1. "Once I buy this immediate annuity, I'll lose access to my money."
This reservation is partially true. In order to receive guaranteed payments for life, you will need to surrender the cash you put into this type annuity. You've essentially exchanged your money for a steady stream of income and the peace of mind that comes with it.
That's why, for the most part, the premium you pay for an immediate annuity is no longer available to you, even in an emergency. Some insurance companies will permit a limited advance withdrawal of say, six months' payments up front. But it's best to consider an immediate annuity a "locked up" purchase and not expect to receive any unplanned withdrawals.
This doesn't mean that you need to be strapped when it comes time for vacation planning, helping your loved ones, or even an unforeseen emergency. The key to good annuity planning is to find a balance between the amount of your nest egg that you're willing to irrevocably invest in this annuity, and the amount of your savings that you'd like to keep liquid for the good as well as the not-so-good surprises that happen in life.
For many, this type of annuity is an excellent part of the retirement planning puzzle, working best in conjunction with other investments and your unencumbered savings.
2. "I don't like to think about dying and analyzing this annuity requires me to guess my life expectancy."
Let's face it, planning for your retirement also means planning for inevitabilities you'd rather not consider. In fact, a recent study found that many people who postponed or even avoided buying an annuity altogether did so because it forced them to think about their life expectancy. This phenomenon is called "mortality salience."
That said, by including an immediate annuity in their financial plans, my clients often feel good about ensuring a dependable income for the rest of their lives. They can more freely enjoy the non-annuity portion of their nest egg without the fear of running out of cash as they get older.
When the answer to "how to make ends meet" is found, you're free to daydream on the "what's next" and enjoy your retirement.
3. "If I die earlier than expected, the cash I put into my annuity will have been wasted."
The payment schedule for an immediate annuity is based on your average life expectancy. For this reason, if you have a serious health condition that may shorten your life, this type of annuity is probably not for you. However, if you retire at 65, the chances are good that you'll live for another 20 years, maybe even longer. This makes a guaranteed lifetime income stream an attractive proposition.
Nevertheless, it is true that when purchasing an annuity (and for many other good reasons!) you hope to have a long and fulfilling retirement, exceeding life expectancy averages. When that happens, your returns can be much higher than expected. The opposite, of course, is also true.
Ultimately, an annuity is an insurance product, insuring your income for a long life. Like any other type of insurance, we exchange a premium for the peace of mind that accompanies it.