Jackson National Immediate Annuity Review
Why a Jackson immediate annuity?
Pensions and Social Security used to be the main funding for retirement. Today, however, people have to rely more on their personal assets to fund retirement while ensuring that their income lasts as long as they do.
An immediate annuity from Jackson is a financial vehicle that can provide a variety of appealing benefits which can be tailored to fit your particular retirement needs.
Valuable features include:
Dependable and predictable income options, including lifetime income
Protection against market swings and interest rate volatility so the income you receive is not affected
Protection against inflation with an optional Income Escalator
Payment options (subject to a $50 minimum payment unless direct-deposited) include monthly, quarterly, semiannually and annually. Income payments received may be based on the amount you contribute, your age, gender and/or other factors. Once established, your income is steady and taxed only as you receive payments. Because a portion of your payment is considered a return of principal, only earnings are taxed on non-qualified contracts.
Income Options:
Lifetime Income

Choose to receive payments for the rest of your life with no refund or with an optional cash or installment refund. A refund option guarantees that every dollar of premium paid into your annuity will be paid to you or your beneficiary.

Period Certain

Choose any period from five to 60 years to receive your payments, subject to availability and issue age. If you pass away during the period, your beneficiary(ies) will receive the payments during the remaining years of the selected period.

Life with Period Certain

This income option will guarantee lifetime payments to you for as long as you live. If you pass away before the end of the period selected, your beneficiary(ies) will receive payments for the remainder of the period certain. If the joint option is elected, you can choose to have the survivor receive the same amount, two-thirds or half of the original payment.
To read the Jackson National Immediate Annuity brochure click the image (opens to a PDF document):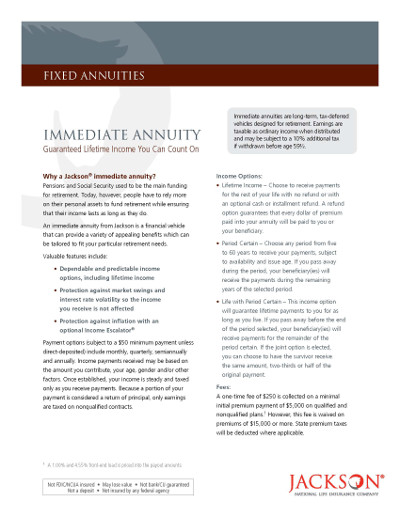 To review this annuity with an agent or to receive a free personalized illustration call 800-872-6684 (Monday-Friday, 9AM-5PM EST). You can also email your questions or comments here. We'll get back to you quickly!
Brochure Disclosure: The contract features described in this brochure may not apply in the state in which you reside. Insurance companies often issue contracts which are 'state-specific.' Insurance companies also change their brochures often and without notice. To receive the latest version of the annuity brochure for your state call 800-872-6684.
XADV14238 03/13
Read more about the Jackson National Immediate Annuity
Monthly Annuity Calculator
This is a monthly annuity calculator. It calculates the amount of monthly income you will receive in return for a specific "Investment" (aka Premium). Premium is the purchase amount you pay to the insurance company. With this calculator you can also find what Premium would be necessary in order to receive a specific monthly income amount. To use the annuity calculator, simply select your age, state, and gender. Enter a dollar amount in only one of the two boxes labeled "Investment" or "Monthly Income." Then, choose an income start date. Click "Calculate" and you will see a table with annuity quotes. Feel free to call 800-872-6684 if you have any questions about annuities or your quotes.