Should We Stay or Should We Move?
The Pros and Cons of Relocating in Retirement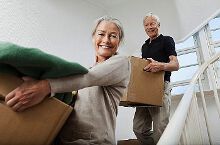 Relocating in retirement is a big decision.
If you're like many retirees, you will have given a lot of thought to where to settle down in retirement. You may have romanticized moving to a home on a shoreline, or a home in the mountains, on a golf course, or in some other vacation setting.
But the reality is that moving is a major undertaking. So, the best way to start the process - or to determine if relocating is right for you - is to ask yourself some serious questions and do a lot of homework.
Try it – You Might Like It
For example, before diving in head first and purchasing a new home or condo, consider renting for a while. That way you can get a feel for the area, the people, and lifestyle. You may be happy that you did, especially if you find that you don't love the area as much as you thought you would.
During this trial phase, consider how much you enjoy living there now and what kind of access you have your favorite activities. Think about how you will manage in the new locale when you are significantly older. Is it isolated? Is there a good network of support services for people of your age?
If you discover that you do like the new area and can picture yourself managing well, don't wait too long to make a move. The younger you are, the easier it is to adapt to new surroundings. If you will enjoy life in your new place, you owe it to yourself to maximize that.
Important Questions to Ask Yourself
You should be well prepared physically and financially for living somewhere new. This will require asking questions such as:
Is my health insurance coverage widely accepted in my new location? Some good spots to check for information on an area's medical care and insurance information are state department of insurance websites, as well as on www.Medicare.gov.
How will your health fare in the new climate? Depending on any health conditions you may have, you should consider whether you would do better in a certain type of weather.
What is the cost of living in your desired location? Cost of living can be a key factor in your decision, especially if prices are substantially higher than in your current home. You need to factor in everything, not only food and gas but also things like greens fees if you're a frequent golfer and the cost of other activities that you plan to participate in.
Will your pension income be taxed? If you receive income from a pension, you will want to check on any potential taxation issues. In some states, military and in-state pensions are exempt from income tax.
What type of tax will you be required to pay on your other retirement income sources? Your federal income tax won't really differ much, regardless of where you reside. However, your state and local taxes could. For instance, some states have no income tax at all. It is important to check into this prior to making a move.
What about other taxes? Whether or not you will have to pay property taxes should also be weighed as you decide whether to move. Again, this varies among states.
In addition to all of the above, you will also want to think about how far you will be from family and friends. Many people fantasize about relocating in retirement to get away from the cold, but make sure you consider realistically how you will feel being farther from the people you love.
Planning for the Big Move - How to Make a Smooth Transition
If you've assessed the situation and you decide to go forward with a move, there are some important steps to prepare. You want to ensure that both your physical and financial items are safe in order to make the move seamless:
Hire professional movers (get estimates from at least three reputable companies)
Store important documents and carry these with you (for example, your will, birth certificates, financial documents, etc.)
Open bank accounts in your new location, and then close your previous accounts
Visit your post office and fill out a change of address form (this typically takes two weeks to take effect)
Get information on how to safely move your pets

I was hesitant at first to buy an annuity on the internet. Once I got your quote report and read your reviews I was happy I found your website. Your phone reps were always very helpful. You made the whole thing go really simple. Thank you guys!
Read 650+ verified reviews
You will also want to take care of other important items to ensure that you are up and running in your new home as soon as possible. If you haven't already done so, as soon as you arrive plan to do the following:
Locate a new physician, dentist, and other medical professionals
Determine the location of the nearest hospital and urgent care center in case of an emergency
Obtain a new driver's license (if moving to a different state), and change your vehicle registrations
Rent a safe deposit box, if needed, in order to store your important papers and other items
Reach out to your current network to see if they can introduce you to friends and recommended contacts in your new hometown including service professionals such as hair stylists, car mechanics, home handymen and others.
Your Relocation Checklist: Items to Consider Bringing With You
Relocating may also mean that you are "downsizing" from a home that you have lived in for many years. That being the case, it can be difficult, even emotional, to determine what to take with you and what to let go of at this time.
Here are the items that should come with you:
Important papers / files - You will need to take essential information such as your financial records, will, marriage certificate, and other key documents. Upon arrival at your new location, these will likely need to be stored safely in either a safe or a bank safe deposit box.
Medications - If you take any medication, you will also need to ensure that you have this with you in an easy to access location, especially as things can get confusing during the actual moving process. Get refills so you don't run out soon after the move.
Photos - While you may want to maximize the amount you get rid of, there are some items that just can't be replaced. Photos are among them.
Furniture / Household Items - You may also want to consider taking some furniture and other household items. This, however, will depend on the situation, as well as the type of space that you will be moving into.
When considering whether or not to take any item with you, it can often help to ask yourself several questions - and to answer them honestly. For example, these questions should include:
Will the item fit in your new space?
Is the item truly important to you, or are you keeping it simply out of habit?
Will the item still be functional and / or useful in your new home?
Is the item easy to care for, or will it require special attention?
Although it may be difficult to walk away from possessions that have been part of your life for many years, there are potential solutions. For instance, if you have children, you could allow them to decide which family treasures they would like to keep.
Once you're settled in your new spot and enjoying retirement, you'll be glad you set off on this adventure. There's a lot to figure out at first, but if you research your move well and plan carefully, the payoff is worth it.